Anyone who has installed a home theater system knows that speaker placement is a critical part of getting a room to "sound right". Unfortunately, you can't always put the speakers where you want, particularly with subwoofers. How often has the best location for your sub been a place where it is simply impractical to run a wire from your receiver or surround processor. Fortunately, there is now a great solution to that problem as the Outlaws ride to the rescue with the OAW3 Wireless System.
Designed by and engineered for the Outlaws, the OAW3 is a pair of compact wireless adapter units, each smaller than a deck of cards. Installation is simple, as you plug a cable from the transmitter into a "sub-out" jack and the output of the matching receiver into your sub. Of course, a pair of AC adaptors are included, and once connected you're good to go. No more worries about lengthy subwoofer cables to get the LFE from here to there.
The true value of the OAW3, however, is in its performance. Absolutely nothing is compromised in the transmission, and the units are tested against interference from 802.11 wireless systems, cordless 2.4GHZ and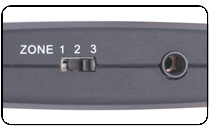 DECT phones, cell phones, Bluetooth links and even microwave ovens. The range is up to 100 feet with line-of-sight, giving all the flexibility you need for subwoofer placement. Even better, the OAW3 is a two-channel system with over a 50 foot range through walls. That means you can use it to send extremely low latency, full fidelity, 20Hz to 20kHz, audio to a second zone without wires, using powered speakers or a pair of our Model 2200 amps with the speakers of your choice.
For the ultimate in flexibility, you can even stream audio from a computer to your home entertainment system, with a direct USB connection from a computer or server to the OWA3 on the transmit side, and an analog connection into your receiver or processor.

The OAW3 Wireless Audio System's features include:
• Wireless full CD quality sound
• Robust and dedicated network for your audio
• Plug and play Setup, Music in Seconds!
• Mac & PC Compatible
• Multi-zone functionality
• Long distance operating range